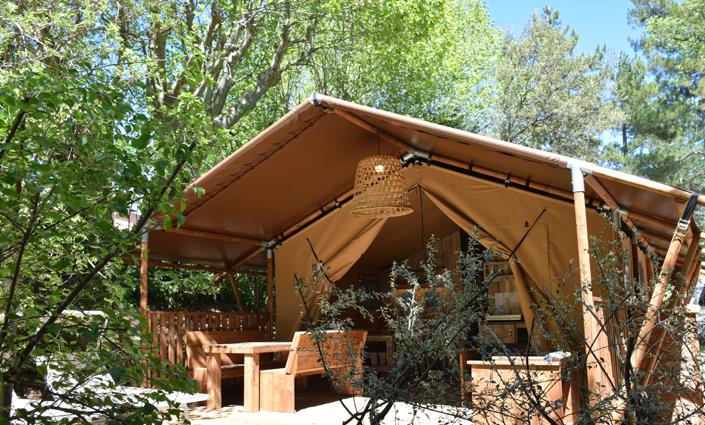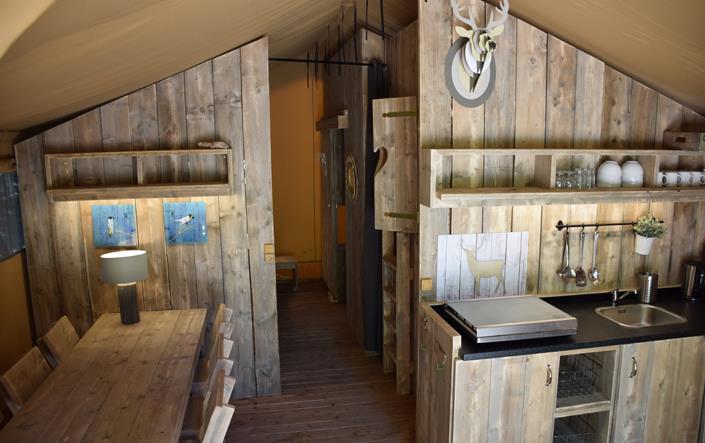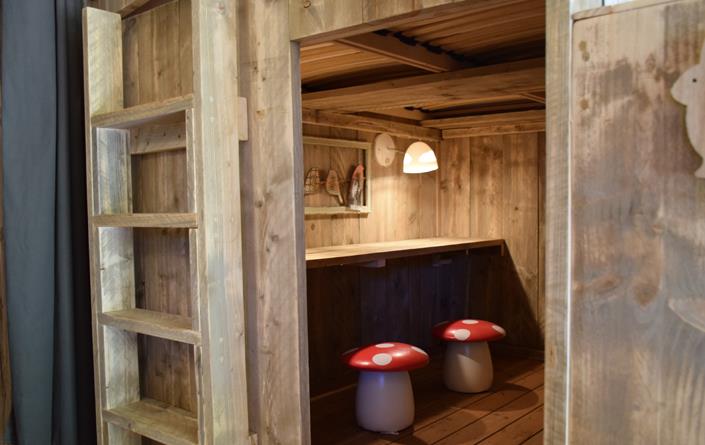 Safari Tent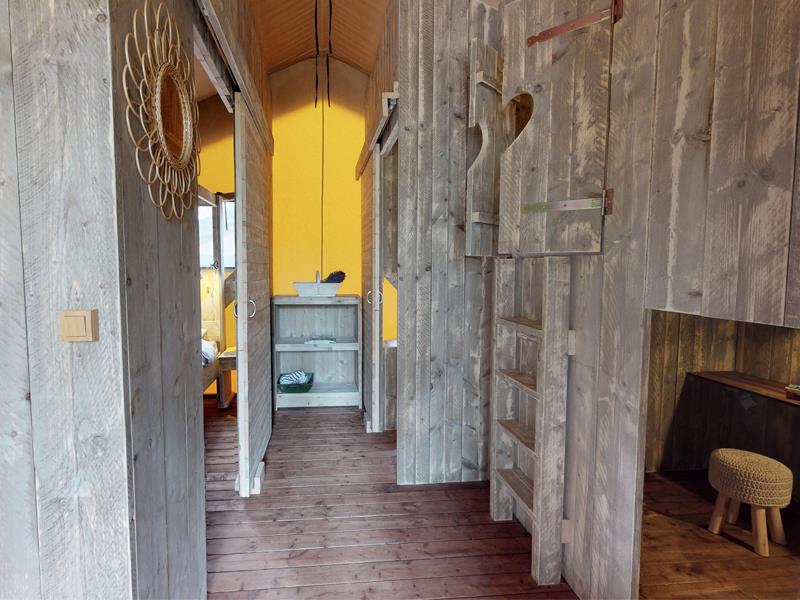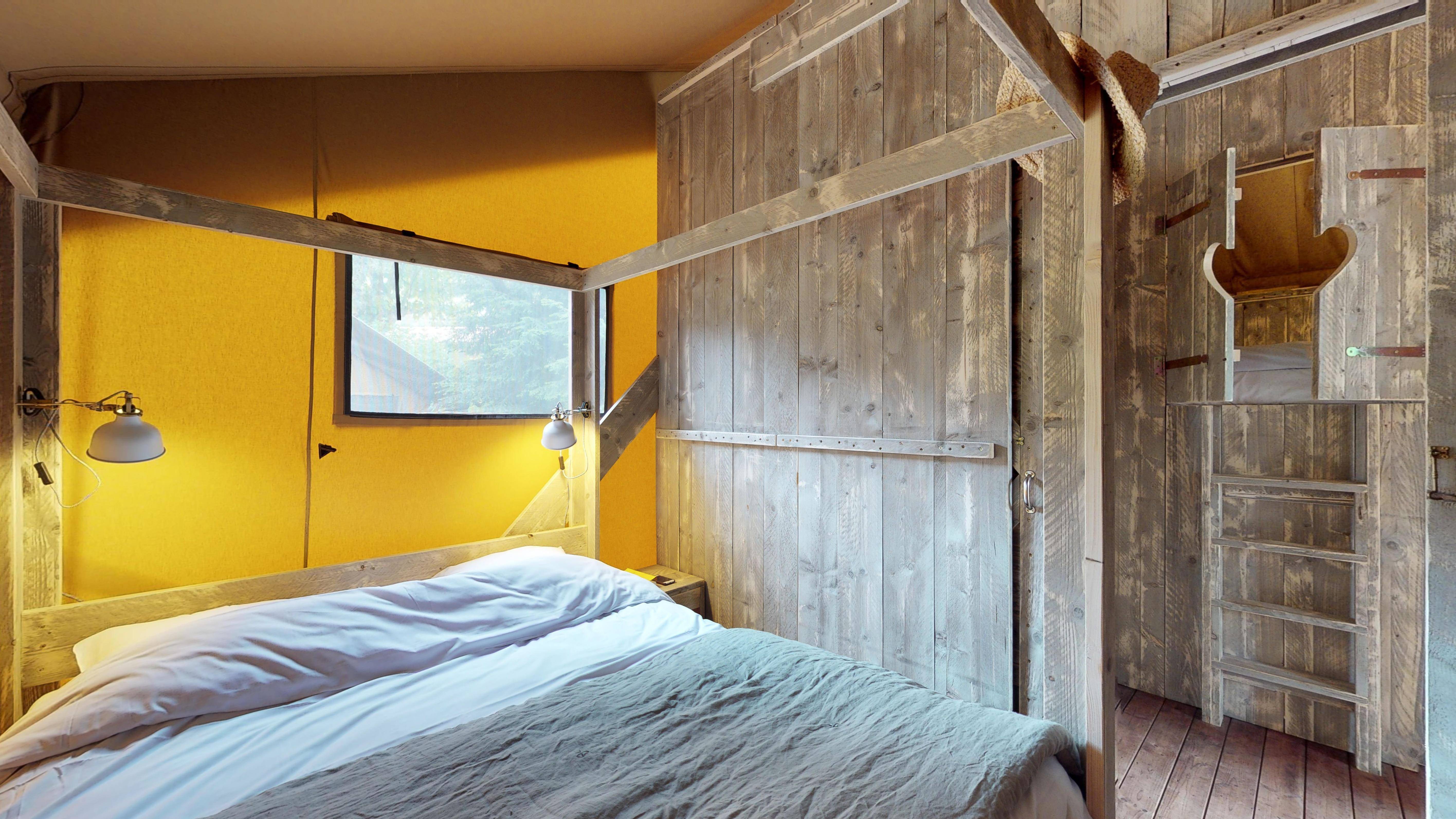 Floor area: 35 m² + wooden terrace of 15 sqm - Capacity: 4/5 persons maximum Year: 2016 and 2018 Our Safari tents offer a comfortable and relaxing interior divided into 4 areas: parents' bedroom with double bed 1m60 x 2m - 1 children's room with 1 single bed and an under towed bed, and a bed Wardrobe (1m60x2m00) for which your children will fight! There is also a kitchen with 1 sink, fridge / freezer, all crockery and a coffee machine. A space meal inside with table and chairs and an outdoor table. A small outdoor seating to enjoy the many squirrels that come say hello. The tents are situated in the serenity of a wooded area close to all amenities. A really nice accommodation for those who like 'glamping' classy. Access to the Wifi network (charge) of your tent. Sanitary facilities nearby. Blankets and pillows provided. Sheets not included but can be rented Special price : For a Couple or a couple with 1 child under 12 years old (and/or a child under 3), we offer you a 5 persons accommodation for a special 2 person price outside the period from 9/7 to 20/8/2022.
Total Size (sqm)

: 45

Wheelchair access : yes
Pets not allowed
separate bedrooms

: 3

Kitchen

: 1

No bathroom
No sanitary block (bathroom + toilets)
Terrace

: 1
Availabilities & online booking
Description form
General information

Pets

Bedrooms & Bedding

Kitchen & Bathroom

Cleaning

Accommodation equipment

Outdoor equipment

Security & Car park

Pre/Post booking information
Accommodation customers reviews
8,52
/10
10 reviews in total
Jurgen W

Posted 07/09/2022

Type of stay : Individual

Accommodation : Safari Tent

Period of stay : From 21/08/2022 to 04/09/2022

The establishment

Campsite is perfectly located to explore the region. Campsite has a lot of space

They seem to be starting a few things which are contradictory to naturism, as in respect to the nature. For example, the new waterpark is made of PLASTIC, and it is an eyesore as the bright colors are not in touch with the rest of the campsite. This is a bad directorion the campsite is taking, not in line with the principles of naturism.

Accommodation review

I had safari tent 3. This has a good location, spacious, comfortable bedding, good kitchen, nice veranda which offers a lot of space. Lot of sunshine throughout the day, but also enough shadow. Tent 2 has pretty much the same sunshine/shadow ratio, but Tent 1 is mostly in the shadows the whole day and pretty dark as a result.

Water pressure in the kitchen was really low, especially for cold water. A bit more pressure would be nice. The lighting is via TL-tubes, which is not the nicest light. Both are just minor inconvenciences though.

Kathleen B

Posted 27/07/2022

Type of stay : En couple senior

Accommodation : Safari Tent

Period of stay : From 09/07/2022 to 23/07/2022

The establishment

Les Béléziens, le centre wellness, les animations (poterie, Rando, aquagym, atelier lavande…) et le site sont tops… mais vraiment excessivement bruyant la nuit…

Tente safari très chère pour être réveillés tous les matins par l'épicerie à 7:00 et la nuit par les jeunes qui parlent et autres (!!!) devant le wellness la nuit…

Accommodation review

Confort

Chaleur excessive la journée et nuisances sonores la nuit et tous les matins

Frédéric V

Posted 11/09/2021

Type of stay : En jeune couple

The establishment

Le domaine est très bien situé pour découvrir la région. Accueil agréable, tente safari très bien équipée, grands espaces aux abords des piscines. Un bar/resto au top! Nous y avons mangé à plusieurs reprises, soit le midi soit le soir et ce fut toujours un régal. Nous avons hâte d'être l'été prochain!

En pleine crise sanitaire, je m'attendais à un nettoyage approfondi des logements et des sanitaires. Ce ne fut pas le cas et j'ai même eu l'impression que les sanitaires étaient moins entretenues que par le passé. Mais il est de la responsabilité de chacun(e) de garder les sanitaires le plus propre possible

Accommodation review

Ce côté camping avec une touche de « luxe » et confort. Beaux espaces intérieurs, bonne literie, ce type de tente est vraiment agréable pour un séjour même de longue durée. Il faisait un peu sombre dans la nôtre (safari 1) mais nous étions aussi bien protégé de la chaleur du coup.

Rien!

Nicolas S

Posted 20/08/2021

Type of stay : En famille avec enfant(s)

Accommodation : Safari Tent

Period of stay : From 31/07/2021 to 07/08/2021

The establishment

Première fois dans les tentes safari. On a adoré.

Rien

Accommodation review

On a adoré

On s'y est pris au dernier moment pour réserver et la tente safari 1 est un peu trop à l'ombre mais bon...

Catherine C

Posted 30/07/2021

Type of stay : En famille avec adolescent(s)

The establishment

1) Avons beaucoup apprécié les groupes musicaux des 14/07 et 21/07. 2) Notre fille de 14 ans a aimé le barbecue animé par Jessica pour les jeunes de 12-20 ans. 3) Super créativité autour des jeux en bois qui ravissent petits et grands, bravo à Roland et Evelyne toujours très investis sur le domaine et qui contribuent grandement à la réussite du séjour ! 4) Un grand merci également à Olivier pour son investissement sans faille depuis des décennies et à Agnès pour la bibliothèque très précieuse !

1) Proposer des soirées un peu plus diversifiées et qui répondent à toutes les tranches d'âge. 2) Envisager la construction d'un espace insonorisé pour les jeunes afin de respecter la tranquillité de chacun et de remédier aux nuisances sonores nocturnes hélas encore trop fréquentes !

Accommodation review

1) Hébergement à la fois spacieux, fonctionnel avec déco harmonieuse et bonne conception intérieure comme extérieure, bravo ! 2) Très bien équipé en vaisselle et autres ustensiles, du bonheur pour la cuisinière et/ou le cuisinier !!!

1) Faciliter l'ouverture de l'épicerie en envisageant des bacs à roulettes plus ergonomiques pour le dos de notre gentille Fado et moins bruyants dès l'aube !

DIDIER - TALANT

Posted 12/06/2021

Type of stay : En couple senior

Accommodation : Safari Tent

Period of stay : From 06/06/2021 to 09/06/2021

The establishment

Le cadre, la météo

Voir ci dessous, la rubrique hébergement.

Accommodation review

Equipements, surface importante.

Tente safari 1 trop à l'ombre et trop sombre à l'intérieur. On avait demandé la 3 dont la terrasse est plus ensoleillée le matin au moins.

Carole

Posted 06/07/2020

Type of stay : En famille avec adolescent(s)

The establishment

Ma dernière visite à Bélézy date de 25 ans. J'ai voulu y revenir en vacances, faire découvrir ce magnifique lieu & la région à ma fille de 13 ans. Le domaine est aujourd'hui tout simplement un lieu de vacances merveilleux, un endroit où l'on se sent libre et en complète harmonie avec la nature & avec soi-même. Nous avions déjà passé une semaine dans un autre campingne naturiste quand ma fille avait 5 ans, elle avait adoré mais là adolescente elle appréhendait un peu. Tout était mis en oeuvre dès la réception jusqu'a la tente safari et les lieux communs pour la mettre à l'aise. On reviendra!

Accommodation review

Avons beaucoup apprécié l'espace, la qualité des matériaux, le confort de la tente. le lieu ombragé, l'intimité offerte grâce à une disposition judicieuse des tentes, les 2 chaises longues. la propreté, la décoration et le panier accueil. Très pratique aussi le coffre fort et j'ai beaucoup apprécié que les voitures doivent être garées un peu plus loin. Les sanitaires non loin de la tente sont d'une propreté irréprochable et toutes les mesures covid étaient prises. C'est rassurant! Un hébergement nature et supra confortable.

Joke M

Posted 09/07/2022

Type of stay : Senioren (echt)paar

The establishment

de prachtige natuur, de rust en ruimte in juni

Accommodation review

prachtige ligging, goede inrichting

Gerard H

Posted 28/06/2022

Type of stay : Senioren (echt)paar

Accommodation : Safari Tent

Period of stay : From 18/06/2022 to 25/06/2022

The establishment

Relaxed bloot zijn

Niets

Accommodation review

Perfecte sfeer en mooie camping

Anoniem

Posted 31/08/2020

Type of stay : Gezin met tiener(s)

The establishment

Ondanks de covid maatregelen, toch een zeer fijne vakantie gehad. Bewust terug voor Bélézy gekozen omdat we er reilen en zeilen kennen en we vertrouwden op de aanpak.

Onaangenaam was de losbandigheid van heel wat jeugd die deden alsof er niets aan de hand was, de maatregelen in de wind sloegen, zich luidruchtig afreageerden tot laat in de nacht. Jammer, want het domein deed echt wel de moeite om hen wat te bieden.

Accommodation review

Zalige tent - spatieus, zowel binnen als op het terras - dicht bij alles - door de toenemende begroeiing ook steeds meer uit het zicht van het centrale wandelpad.

Minpuntje is dat het glamping zonder eigen sanitair is, maar het blok aan de mas is wel aangenaam. Af en toe krijg je gratis wekdienst door de opstart van de winkel (als ze de metalen stoelen om 6u30 schuiven om de ingang te vegen gaat het door merg en been). Soms wat lawaaierig door te dicht bij alles te zitten (centraal wandelpad / winkel).