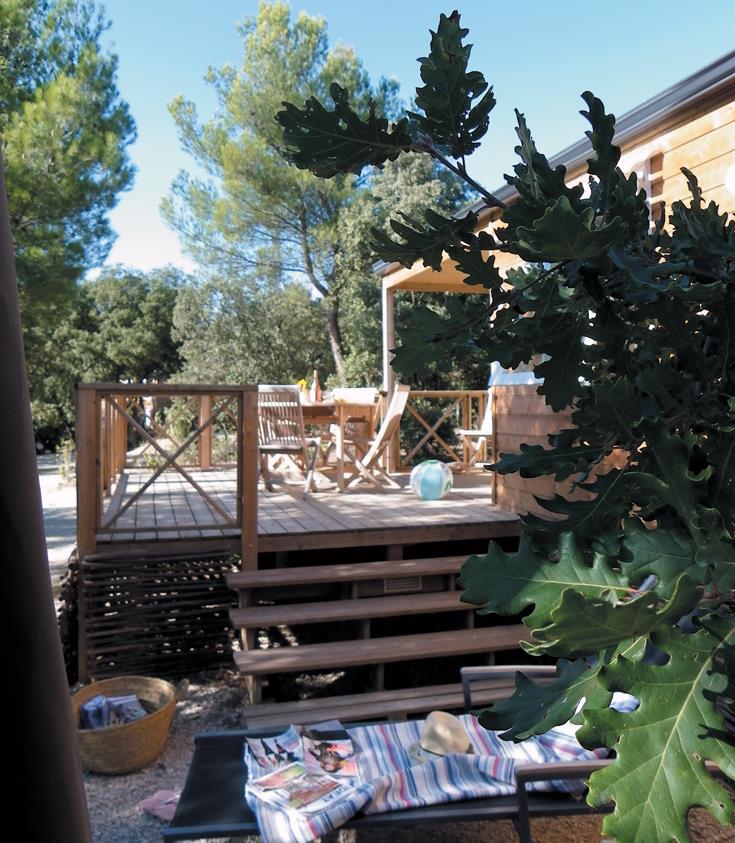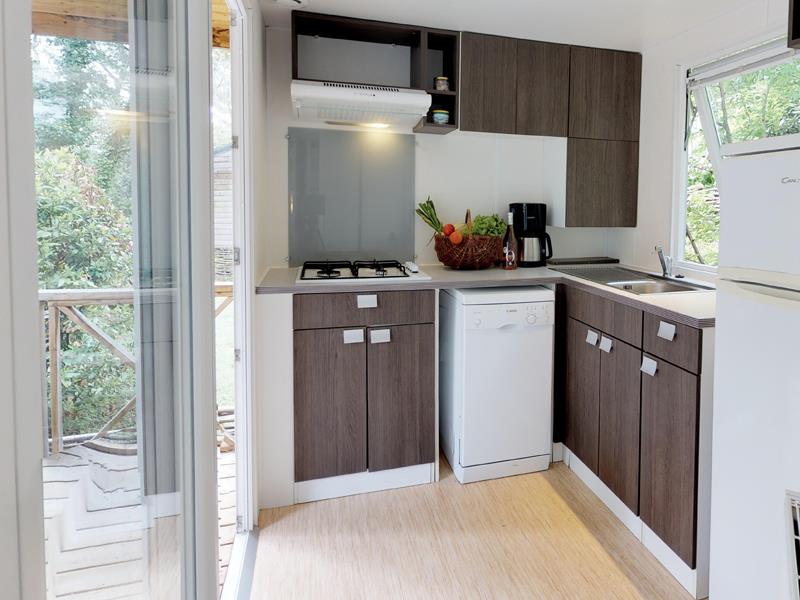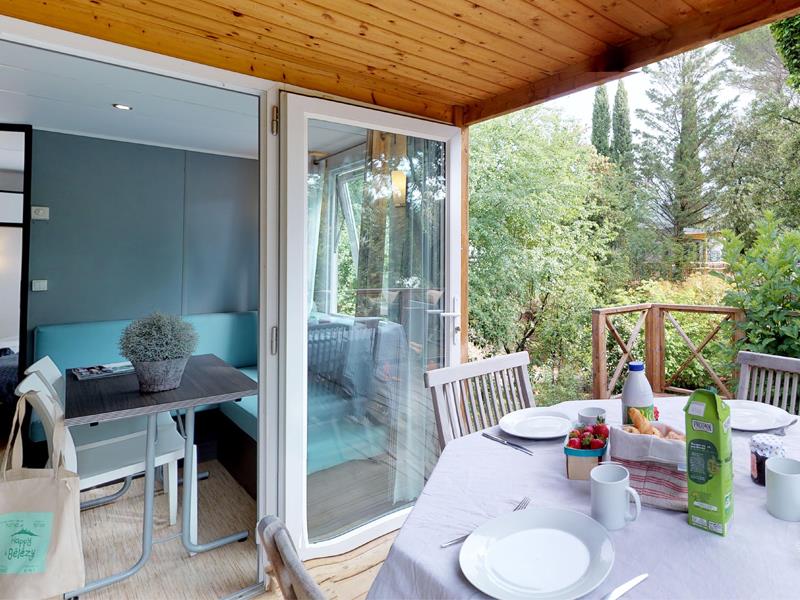 Sun Lv (Type Sunday)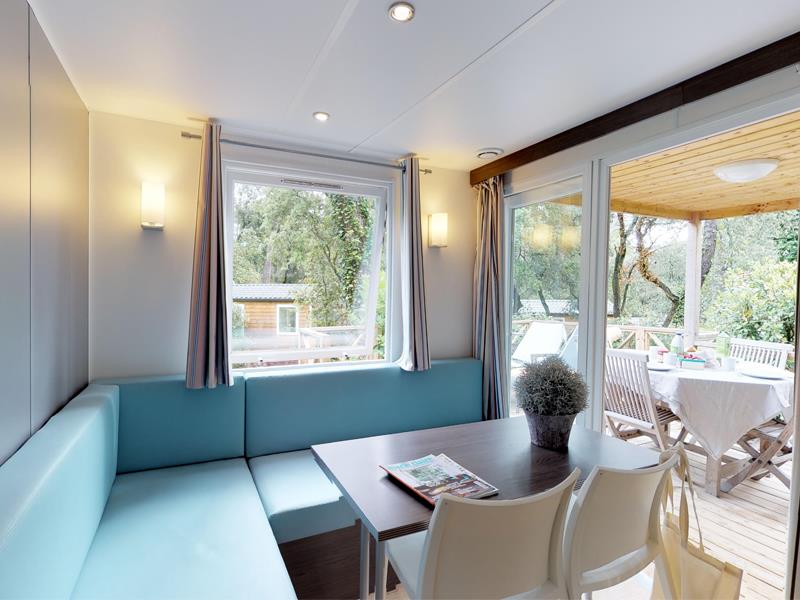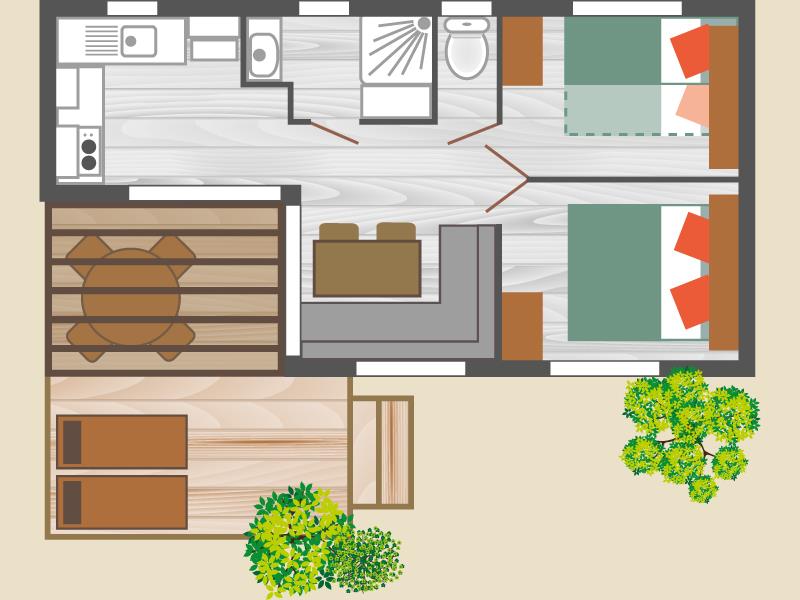 (ancient name : Wooden Bungalow 2 bedrooms) Number: 25 - Surface area: 27 m² + south-facing terrace measuring 15 m² Capacity: 4/5 people maximum Located on the hill, in the middle of the pines and oaks, or further away from the leisure park (please specify when booking). These accommodations have everything to please: a semi-covered wooden terrace on the ground floor with direct access to the kitchen and the living room, table and chairs. 1 bedroom with a double bed (1.60 x 2m) and 1 bedroom with 2 beds (including 1 pull-out bed to accommodate a baby bed), 1 bed in the living room. Fully equipped kitchen with microwave, dishwasher, coffee machine.... Bathroom with shower and separate WC. Gas central heating. Duvets and pillows provided. Sheets not included (can be rented at the reception). WIFI (with participation)
Total Size (sqm)

: 27

separate bedrooms

: 2

additional places to sleep

: 1

Kitchen

: 1

Dishwasher

: 1

Bathroom

: 1

Toilet

: 1

Heating
Terrace

: 1

Pets not allowed
Availabilities & online booking
Description form
General information

Pets

Bedrooms & Bedding

Kitchen & Bathroom

Kitchen

Kitchen

: 1

separated

Crockery related to the number of people accommodated

Kitchen equipment

Sink

: 1

Fridge / Freezer

: 1

Dishwasher

: 1

4 cooking plates

: 1

Microwave

: 1

Extractor fan

: 1

Electric cafetière

: 1

Fruit juicer

: 1

Crockery

Plates

: 8

Side plates

: 8

Soup bowls

: 1

Knives

: 8

Kitchen knife

: 1

Vegetable peeler

: 1

Meat knife (sharp)

: 1

Bread knife

: 1

Kitchen knives

: 1

Forks

: 8

Soup spoons

: 8

Teaspoons

: 8

Table spoons

: 1

Wooden spatula

: 1

Cutlery tray

: 1

Bowls

: 6

Coffee cups with saucer

: 6

Coffee mugs

: 6

Glasses

: 6

Wine glasses

: 6

Ladle

: 1

Balloon whisk

: 1

Can opener

: 1

Grater

: 1

Wine/beer bottle opener

: 1

Salad cutlery

: 1

Scissors

: 1

Mat (for hot dishes)

: 1

Ovendish

: 1

Microwave bowl

: 1

Salad spinner

: 1

Ice-tray

: 1

Basket

: 1

Colander

: 1

Cutting board

: 1

Salt / pepper shaker

: 1

Jug

: 1

Salad bowls

: 2

Pans

: 3

Frying pan

: 1

Stainless steel casserole dish

: 1

Basin

: 1

Cleaning

Accommodation equipment

Outdoor equipment

Security & Car park

Pre/Post booking information
Accommodation customers reviews
9,62
/10
1 reviews in total
Pierre B

Posted 15/09/2023

Type of stay : En couple senior

Accommodation : Sun LV (Type Sunday)

Period of stay : From 05/09/2023 to 12/09/2023

The establishment

La grandeur du domaine,, les animations, les services (épicerie - restauration), l'accueil, le calme et bien sur la grandeur de la piscine. Tout. Magnifique.

Accommodation review

Le calme.

Nous avions une souris et des fourmis, rien de bien méchant. Manque un peu de soleil.